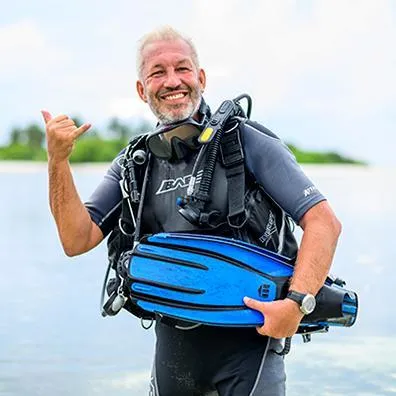 Equipment
for
Maldives
A scuba diver is nothing without the right equipment, but what is the right equipment? When you ask 100 scuba divers an opinion, you get 100 different answers. They all have an opinion about brands, models, regulator piston versus diaphragm balanced or not, DIN versus yoke, Buoyancy Control Device (BCD) versus wing jackets, dive computers, air or not air integrated or about its algorithm, single tank, double tank, sidemount, long hose configuration or whatever. There is enough choice, and for different sorts of diving, you can choose the right equipment and configuration you prefer.
I will explain the kind of standard equipment I use for my diving in the Maldives. Everyone has their own – and maybe a different – opinion and that is fine.
I will mention some brands and models I'm using as of today (May 2020). Over the past 25 years, I have used different brands and models in regulators, BCD's, dive computers, fins and masks. For sure, I will try and change brands and models again as new equipment arrives on the market each year.
Marc Kouwenberg